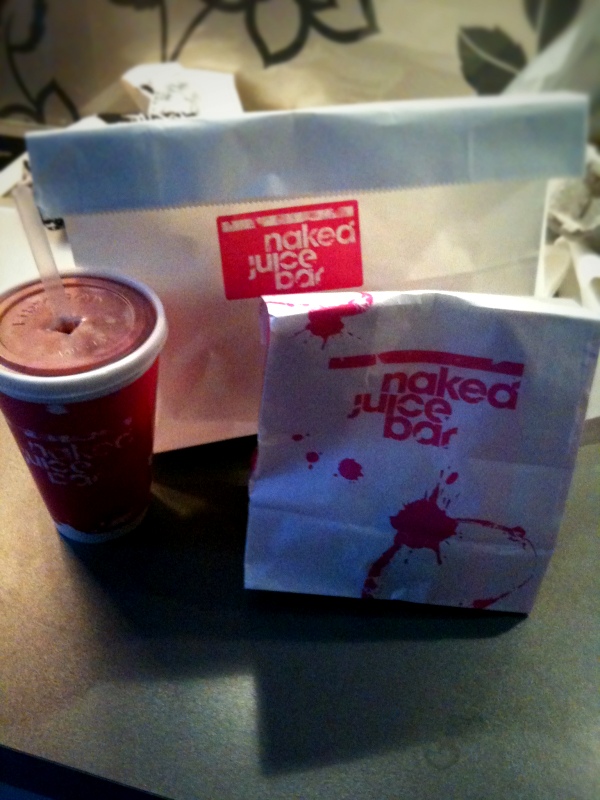 Efter att ha suttit med huvudet mer eller mindre i min datorskärm hela dagen och skissar på en massa designprylar, bestämde jag mig för att ta mina byrackor till Cityterminalen/T-centralen för att miljöträna dem lite samtidigt som jag skulle se till att förse mig själv med lunch på UNDERBARA Naked Juice Bar. Det roligaste och mest komiska i det hela var att jag fick ringa Cizzi och be om hjälp för att hitta dit… ha ha ha.
Jag älskar varumärken/företag som gör det lilla extra. Dvs tänker hela vägen ut – sunda värderingar, hälsosamma produkter, väl förpackat i minsta detalj. Som Naked Juice Bars underbara små historier, I just loooove them:
the full story – Naked Juice Bar
…it's a story about Steven Collyer, Maria Wirén and their buddies. But it's mainly a story about the summer of love when large plump Australian mangoes met and fell in love with crisp tasty Swedish berries.
…a story about a sundrenched beach in laidback Australia. It's a story about a house called Surfside, overlooking the ocean in a place called Surfers Paradise.
It was here that Steve and Maria started making their smoothies and juices. They put together whatever they had at home; banana, mango, some lemon, an apple, yoghurt, maybe some honey and a splash of fresh juice.
Oh, and of course some of the luscious papayas from the tree in the backyard. Since they had no sense for quantities whatsoever they would make way too much and then cruise around Surfside and pour smoothies for buddies and neighbours.
During their visits to Sweden Steve got the taste for Swedish summer. Strawberries picked in the field, blueberries from the forest and wild raspberries. The berries soon made it into the smoothies and juices and were a big hit.
"Hey, you guys should start a juicebar.." their friends said. Now there's a story..